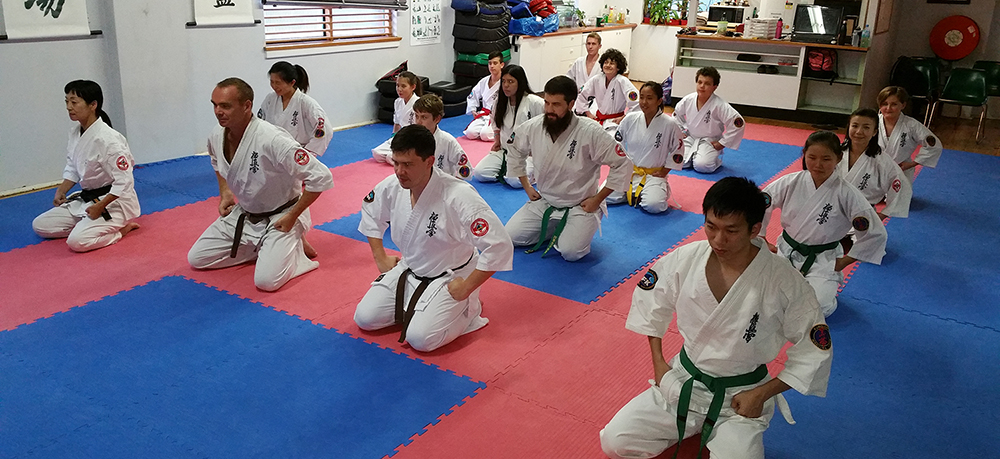 BEGINNERS AND NON-BLACK BELTS
If you are in Sydney and would like to join IFK Australia as a student, all you have to do is contact the instructor nearest to where you live for more information.
At present, there are 4 IFK clubs in Australia. All of these are in Sydney'. We are the only Kyokushin organisation in Sydney's Inner West with proper international affiliiations, being represented in over 55 countries.
If you're looking for Kyokushin training elsewhere in Australia, just contact a kyokushin club in your area. The phone book and/or the internet are very useful in helping you find one.

JOINING AS A BLACK BELT
Kyokushin Black Belt
If you are already dan-graded in Kyokushin in any of the Kyokushin factions, your current grade can be recognised and ratified at the discretion of the IFK Australia executive and grading committees.
However, your future grades will be determined by the Australian grading committee and will have to be ratified by the IFK grading committee, and it requires, among other things, a thorough knowledge of the the IFK Australia syllabus, and by association, the IFK syllabus, and a commitment to the principles and ideals of the IFK.
Non-Kyokushin Black Belt
If you are an actively practising black belt in a traditional and internationally recognised style of karate you can be accepted into the organisation at black belt level, subject to approval of the IFK Australia Executive Committee and the IFK Headquarters.
If you are dan-graded in a non-Kyokushin discipline, we may recognise your personal achievements and you might be able to join the IFKKA at shodan level. This depends on the style you have been graded in, and it will have to be approved by the IFK Board. You may be required show that you can fulfil the syllabus requirements before you be accepted at black belt level.
For the sake of simplicity, many who join often start again at white belt in the dojo, and usually progress through the grades quite rapidly because of their existing abilities. For tournaments however, in order to be fair to other contestants, they usually compete at their skill level rather than their Kyokushin grade level.
It is however IMPLICIT, that in order to join, you must be also be actively training with, and as, IFK Australia and actively learning the syllabus. You cannot simply join for the sake of adding the IFK black belt to your CV and list of "achievements" (especially since you haven't actually achieved it). You must be fully representing us as one of our yudansha i.e. competing in our name, training in our dojos or running an IFK affiliated dojo, and teaching our syllabus to the junior grades.
There is a one-time lifetime international membership fee charged, currently A$20.00. This is the same fee charged to ANYONE who joins the IFK via IFK Australia. If you are accepted by the IFK as a black belt and you want an IFK Black Belt certificate and/or belt, there is a belt and/or certificate fee payable that varies depending on the grade, payable in its entirety to the IFK in Pounds Sterling
JOINING AS A DOJO
If you run a dojo in Australia, Kyokushin or non-Kyokushin, the same rules apply as for black belts above, but it also applies to anyone in your dojo who wants to grade in Kyokushin.
In the case of clubs joining IFK Australia, there is also currently a nominal, low, annual dojo fee. Of course, you will also have to learn and teach the IFK syllabus from the start of your membership. All your current students would also have to join IFK Australia, which currently incurs an annual $10 fee (which contributes towards their insurance), and on their first grading, they would also have to join the IFK (one off $20). The IFK Australia also pays PART of the insurance for your dojo, pro-rata on the number of students you have.
Benefits of joining the IFK
IFK Honbu (Headquarters) does not interfere with the running of the organisation, as long as the standards of the IFK are not compromised, and as long as the IFK syllabus is observed. Once you have joined, existing instructors will make every effort to bring you and your students up to speed with the syllabus.
You can teach other styles of martial arts in your dojo too, such as kobudo, kickboxing, grappling etc... but in order to grade in IFK Kyokushin, your students will have meet the IFK syllabus requirements.
As part of an international organisation, members have access to all the world class international events. The IFK World Tournament takes place every 4 years, the British Open is annual, and there are many other tournaments around the world that are run by the more than 50 member countries.
Member countries also run training camps, and the annual BKK Camp in the UK is highly recommended. Black belt camps are also held every so often with over 100 IFK black belts up to 7th Dan attending from all over the IFK, with world class instructors teaching at all of these.
If you need more information or want to join, please contact us.

IF YOU'RE NOT BASED IN AUSTRALIA
The IFK operates on a country-by-country basis. This means that if you do not live in Australia and would like to join personally or as a dojo, then you cannot join via IFK Australia. You however still have a number of choices.
If there is an IFK representative in your country, you should contact him/her to find out what arrangements can be made for you to join. Please check the IFK website to see if there is representative in your country.
If not, you can contact the IFK to see what options there are.